We wanted to continue our ongoing series by highlighting a few of the best films of an actress we'll be writing about in the next weeks. Ava Gardner was renowned throughout her career as one of the most alluring leading ladies in Hollywood.
And although she was linked romantically with everyone from Mickey Rooney to Frank Sinatra, and wound up plastered all over the tabloids, we want to acknowledge some of her most noteworthy films. Because she left an indelible mark on cinema. Let's have a look at her career, shall we?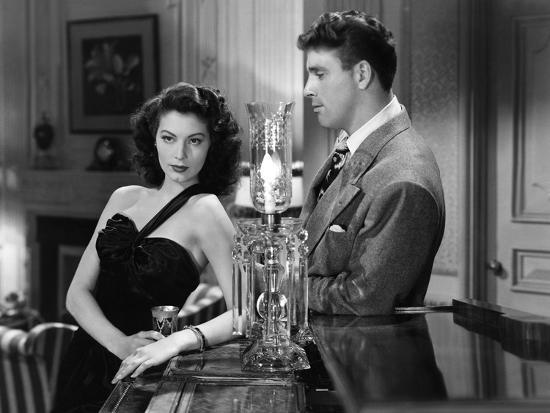 The Killers (1946)
This is the movie that put Ava Gardner on the map and rightfully so. She still remains one of the most deadly film noir sirens thanks to her turn opposite the tragic Swede played by Burt Lancaster. She casts a spell on him (and her audience), thereafter catching him deeper and deeper in her tantalizing web of destruction.
Pandora and The Flying Dutchman (1951)
With a flip of the coin, you could just as easily choose The Barefoot Contessa. However, thanks to the bewitching Technicolor of Jack Cardiff and this kind of fated love story collapsing time between Gardner and James Mason, it's hard not to recommend Pandora. Part of the reason comes with how it plays with the mythology around Gardner's own reputation. Regardless of the plot, it's transfixing for totally capturing her supernal beauty.
Mogambo (1953)
It's easy to think of this as the prototypical Gardner role. She's gorgeous as per usual, but she also has spunk, running off her mouth and ably sparring with anyone who comes her way, be it man or beast (ie. Clark Gable). She flaunts herself all over the screen, cracks jokes, and leaves yet another lasting impression in John Ford's picture.
The Night of The Iguana (1964)
She held her own in On The Beach and Seven Days in May with the likes of Gregory Peck and Burt Lancaster, but it's her part opposite Richard Burton here that shows how her persona evolved over time. She's seen the world and gives the repressive film a vitality and richness that would be lacking otherwise.
Other Films: Bhowani Junction, Shadow of The Thin Man, Singapore, Show Boat, My Forbidden Past, The Snows of Kilimanjaro, The Band Wagon
Do you have your own favorite Gardner films that you would recommend to a first-time viewer?