We follow up last week's guide to classic film noir of the 1940s by continuing into the 1950s with 4 more entries. With the new decade came new progressions in realism, location shooting, and heightened character psychology.
As Paul Schrader wrote, the noir hero started to "go bananas." What remained were graft, corruption, and the depravity of the human heart. True, gumshoes and femme fatales were never cut-and-dry. Now they were even less so. Enjoy!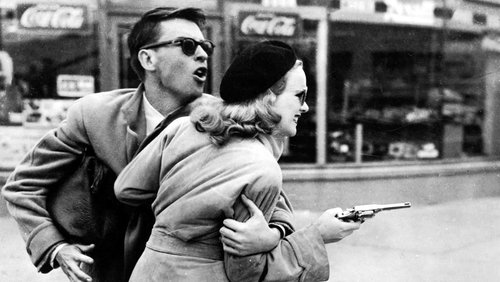 B movies form the backbone of this often down and dirty genre. There are few better than Joseph H. Lewis's Gun Crazy an exercise in inventive economy. It tells the tale of a romance-fueled crime spree with verve and violent passion. Although mostly forgotten today, John Dall and Peggy Cummins do a fine rendition as a latter-day incarnation of Bonnie and Clyde
It's a cops and robbers procedural with Glenn Ford as the straight-arrow family man going against the local mob. What Fritz Lang does is boil it over with newfound vindictiveness. We soon find out the good guys aren't always untarnished nor the noir dames (Gloria Grahame) always the villains. True to form, Lee Marvin plays an incorrigible heavy.
It's early Stanley Kubrick so some might find it a stark contrast to his later works. Regardless, it's one of the finest heist films of all-time. Because the best-laid plans — even the most meticulous — always have a habit of going awry. The set-up is gritty and no-nonsense with a cast headed by a fitting protagonist: Sterling Hayden. Likewise, it's ending just about sums up film noir fatalism.
Touch of Evil (1958)
It's often cited as one of the final signposts of classic film noir. With its tale of below the border corruption instigated by a portly Hank Quinlan (Orson Welles) against a Mexican policeman (Charlton Heston) and his wife (Janet Leigh), it more than fits the parameters of the genre. The extended opening shot is just one stunning testament of Welles' vision as a director.
Worth Watching:
Sunset Blvd., In a Lonely Place, Night and The City, Where The Sidewalk Ends, Ace in The Hole, The Narrow Margin, Kansas City Confidential, Pickup on South Street, Night of The Hunter, Kiss Me Deadly, Bad Day at Black Rock, Murder by Contract, and so many more.