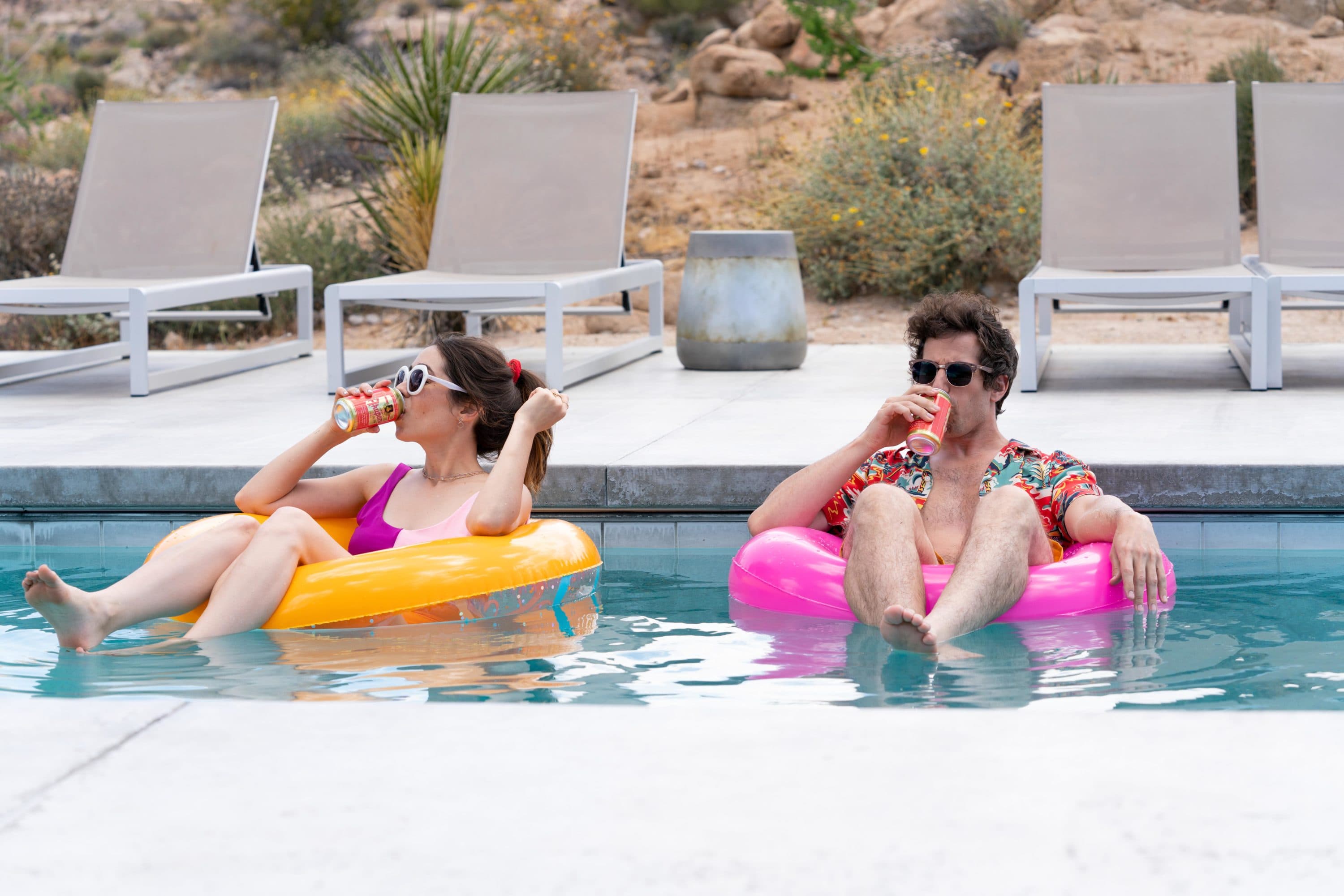 Since I watched more contemporary films than I usually do for award season, I put together some capsule reviews. There's not too much rhyme or reason to these, but I thought I would include them here. Let me know what you thought of these movies. Thank you!
Palm Springs
In some serendipitous twist of fate, Palm Springs feels like the film made for the year of the pandemic — where the days are recycled and we are besieged by all the existential questions the world has to offer. It's not just Groundhog's Day redux because while Andy Samberg and Cristin Miloti spark romantic chemistry, the key is how they are stuck in a wedding day time loop together.
There are two ways to go about it: either accept the status quo or rage against it in the pursuit of something better. It speaks to love and intimacy and marriage in a way that wades through the refuse and the raunch and comes out with a resolute optimism. Life's not just about finding your "Irvine." It's also made better when you find someone to walk alongside, especially when it's for an eternity. 
The Way Back
If you've seen Hoosiers or any of those sports movies of old, there's nothing particularly new about The Way Back. In spite of this, there's something compelling; it's borne on the performance of Ben Affleck — the inner demons of his character and this fractured road to redemption. It means something genuine and true to people who have played sports — been filled with that indescribable elation — and those who have been subjected to tragedy. It's not just Affleck, but there's a quiet and reserved profundity to many of these performances. I appreciated it a great deal more than I was expecting. 
Promising Young Woman
It grieves me that a film like this is deemed relevant in our contemporary society and of course I have no argument to the contrary because it's true. Although the pieces of plot and fluctuating tone never totally gel with me, Carey Mulligan gives an evocative showing as per usual. I'm particularly fascinated by Fennell's use of the thriller genre as a commentary, which feels perhaps more incisive than a one for one based on a true story expose might be.
All the pieces are there, the twists and turns, and the stings to a misogynistic society. But rather like last year's Joker, I still rue the fact we've come to such a place in contemporary cinema — another discomforting representation of man's inhumanity of man — much less man's inhumanity to woman. It's not like we were totally unaware of it before. However, we've given ourselves over to the vindictive nihilism of it all. I hope and pray for restoration. 
Mank 
The film itself boasts a bounty of Classic Hollywood references and the kind of mimesis that might well turn moviegoers into black and white junkies. Alas, for me it had the opposite effect and despite any amount of technique and artistry by David Fincher, there never was a sense of true suspension of disbelief. Like Trumbo or Hitch, and other films before it, regardless of some notable performances, it all felt a bit like play-acting. And of course, such material cannot be taken as gospel. It's a movie about movies after all.
But somehow the picture also lacks movie magic. I never felt truly captivated. For a film that took a closer, more personal look at one of the architects of that grand monolith Citizen Kane, somehow I wished the film had taken a more intimate even mundane scale. Oldman is winsome, but I couldn't help flashing to Seyfried and Collins. Somehow their characters proved his most fascinating talking partners, though many have all but forgotten them in the shadow of Orson Welles and others.
Wonder Woman 84
Although it's slow to get going and the pieces don't always feel totally cohesive, there's still a modicum of relish to be had from Patty Jenkins's latest actioner. The 80s are not simply set dressing and eye candy, but they provide the perfect apex of consumer culture. Beyond hairstyles and workout regimens, it's the emerging generation of instant gratification. Comfort and easy fixes are the world's salve for any number of discomforts. But society still manages to splinter at its seams into an unfathomable entropy.
Diana (Gal Gadot) is once more a mighty protector of the nations, but the absence of Steve (Chris Pine), leaves a void in her life. This is her version of discontentment. While it never delivers the emotional import of its predecessor, it does attempt to synthesize some moderately intriguing thematic ideas. The ultimate temptation comes with the devil telling her she can have everything she wants. It becomes a tension of trading out selfish gain for a kind of utility, even personal sacrifice in service of truth. Wonder Woman's greatest strength once again is her perceptive empathy. This doesn't fail even when the blockbuster does. 
The Truth
While it provides a radically new context for Koreeda's cinema, the quietly meditative quality that pervades his work is still present. The content feels foreign to us, but the form is familiar. Logistically, you can only imagine how the principal members were able to pull it off without a shared language. Still, cinema prevails. It's steeped in this history, real and imagined, as the real-life legacies of Deneuve and Binoche, in particular, provide a richer backdrop for the film. Within the context of this tenuous mother-daughter relationship, it's hard not to consider aspects like the tragedy of sister Francoise Dorleac or the missed opportunity to work with Hitchcock.
However, as Deneuve has her granddaughter brush her hair, we see the actress's face in the mirror, and it must give us pause. She's older but poised and immaculate as she has been for generations.  It's so easy to impart our own desires of what the movie might be. After all, we have some of the greatest talents in French cinema. In comparison, Koreeda's picture feels slight and deliberate. But for the gracious viewer, all these elements might just play to its advantage. 
Tenet
Christopher Nolan is a director with unparalleled ambitions in the realms of narrative. It's true Tenet is firmly entrenched in the traditions of Memento and Inception as he sculpts with time, in this case inverted, like we've rarely seen it before. It brings together many of his fascinations and folds them into a globetrotting spy thriller. There is so much here. We sit back, our minds racing as we take in the spectacle and look to play catch up with the story.
Because it is a puzzle and cipher for us to break as John David Washington, Robert Pattison, and Elizabeth Debicki are all implicated. There's only one problem; it seems like comprehensible emotional stakes are missing altogether because we spend the whole time trying to crack Nolan's code. There's room for nothing else. If you're contented with the perplexity of it all, the pincers through time might be enough, but I have an inkling a myriad of people will be dissatisfied. Still, others will feel he's outdone himself. He's a director always up for a new challenge.  
Da 5 Bloods
Da 5 Bloods stands at the crossroads of Vietnam and the black experience carved out across a tumultuous half-century of American history. There can be no other soundtrack than Marvin Gaye's What's Going On. Spike Lee is made to tell this story and he uses the tableau of newsreel footage to lay the groundwork for our story if it's not already inculcated within our collective consciousness. It's an impassioned collage of history, culture, and the like from Apocalypse Now's "Flight of the Valkyrie" to John Huston's Treasure of The Sierra Madre.
There are moments where the scripting feels corny and even the special effects feel abruptly unpolished. However, it revels in these moments of b-grade thrills creating a vehicle for a band of brothers to reunite in one last mission.  As our Bogey stand-in, Delroy Lindo positively seethes. Although when he marches off into the woods bellowing out the words of Psalm 23 or embracing his long-lost comrade Stormin' Norman (Chadwick Boseman), there's a semblance of healing rising up through his veins. He aids in making the movie about something substantive.